NUR Internet Marketing
Web strategy for companies and businesses
NUR S.r.l. is a web agency based in Mantova, which develops, for its clients, complex projects of Internet Marketing. Through a strategic and personalized analysis and by the use of the professional tools that the web provides, we can give concrete solutions, which enable our clients to achieve the fixed and expected goals, creating conversions measurable according to the corporate business and the target audience.
SEO
in

USA

We study for you visibility project ad hoc, directed to the US target, to place your website on the American market.

Enter
SEO
in

CHINA

Approach the Chinese market with a project of Internet Marketing specifically thought to reach the peaks of Baidu, the Chinese search giant.

Enter
SEO
in

RUSSIA

We develop integrated Internet Marketing solutions to position your website at the top places in the Yandex serp.

Enter
CERTIFICATIONS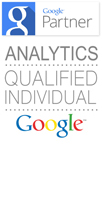 As a proof of the competence used to carry out its activity in Internet Marketing field, NUR S.r.l. achieved two important business certifications from Google....
Enter
TESTIMONIAL
All News
NEWS